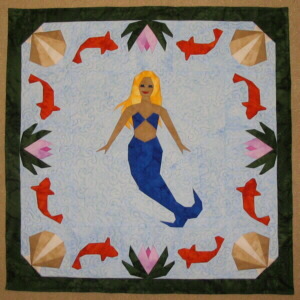 mermaid
Price: 6,95 Euro

Size: Block: 30 x 30 cm (12" x 12")
Quilt: 55 x 55 cm (22" x 22")
This pattern is available here:

Mermaid, kois, waterlilys and shells are completely paperpiecied. Now curves or y-sewing is neccessary.
Anyways, accuracy is important to sew the sections together. If you are not sure, please try some of the free patterns here before.
The mermaid block in the middle measures 30 x 30 cm (12" x 12"), the whole quilt measures 55 x 55 cm (22" x 22").
We added some color varieties for inspiration: