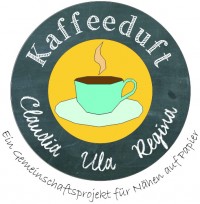 Dear Paperpiecing fans,
Here you will find the joint project of three German quilt designers: Regina Grewe, Claudia Hasenbach and me.
Block 1: Latte Macchiato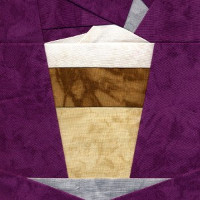 Block 2: Bialetti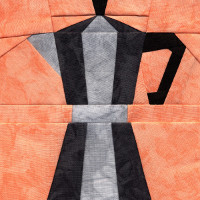 Block 3: Lettering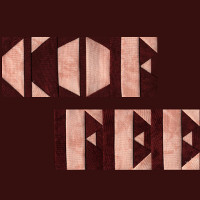 Block 4: French Press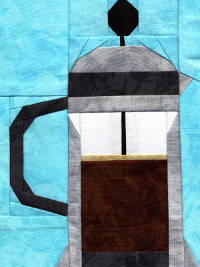 Block 5: Tamper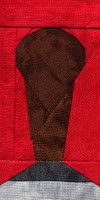 Block 6: Available on 2019-02-01
Block 7: Available on 2019-03-01
We try to update every 1st of a month if we get around to it. But sometimes, it could take a little longer, please be patient.
Our project started at 2018, September 1st.
Then every month each of us will offer something to fill the display case.
Every block is available for free for one month. After the finishing of the project, the blocks can be obtained for a charity donation.
Each of us is designing paper piecing patterns since a lot of years. So each of us has her own style. We had a lot of fun to share our ideas and inspiration and we hope you will have some fun when you sew it, too!
Because we are all from Germany, the patterns are usually written in German language. But when you are familiar with paperpiecing you don't need the instructions.
Finished quilt size will be about 36" x 34" depending on the width of border and sashings.
What is it about?
Every block has anything to do with coffee. Let us surprise you! We have, that you'll enjoy it.
Fabric requirement:
You can choose one fabric for the whole background but I can't give a fabric requirement cause I sewed my "smell-of-coffee-quilt" completely multicolored. I think, both variations look great. Blenders or marbles are always great but take care that you have at least three shades of grey. A very light one, a middle one and a little darker.
You can already look out for fabrics for sashings and border, Claudia has written a guide to putting the top together. You can find these here.
Happy Sewing!
Regina, Claudia and Ula